St John the Baptist Church
St John the Baptist Church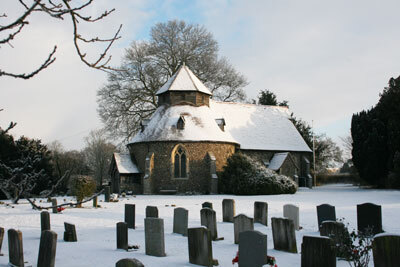 The Church of St. John the Baptist in Little Maplestead – known as the Round Church – is one of only four round churches still in use in England. It was built on a site given to the Order of the Knights of St John of Jerusalem, known as the Knights Hospitaller, and remains associated with this Order – originally established in 1092 in Jerusalem and introduced into England in around 1144 – today.
It is generally believed that there was a church near to the current site in late Saxon times. The manor and church of Little Maplestead were given to the Knights Hospitaller in 1185, and the present Church stands on the site of the one built by the Order in around 1186.
The existing building dates from around 1335 and, as the latest of the four round churches still in use in England, is of great importance historically.
The Church was dramatically restored between 1851-57, when most of the old details were renewed or replaced. The external walls were completely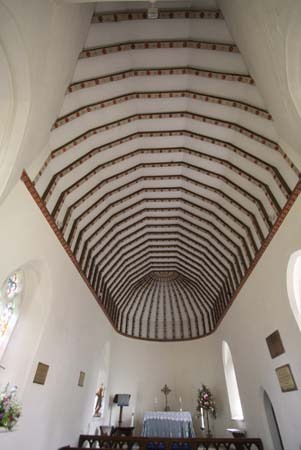 refaced and the windows and buttresses renewed; a new roof was added to the chancel and circular aisle, the sexagonal wooden belfry was rebuilt and the old western porch was replaced with a smaller one.
The present font was discovered during this restoration. It is the most ancient feature in the Church and probably dates from 1080. The bowl was originally square but the corners were cut off, probably during the 16th century. The western face of the font bears a carving of St Andrew's cross.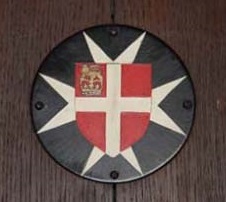 The Round Church still retains close links with the Order of the Knights of St John of Jerusalem. Every year members of the Order can be seen in procession, clad in traditional full robes, on the first Sunday in June. The Order was originally founded to give medical care to sick and injured crusading knights and eventually became today's St John Ambulance service, which is the UK's leading first aid provider and training organisation.
The Maltese Cross of the Knights Hospitaller still forms part of that service's livery and also features on the traditional robes of the Order.
The Church is looked after by the Friends of the Round Church – click for more information.
Church Officers
Vicar:
Rev Gay Ellis The Rectory, Church Street, Great Maplestead, C09 2RG
Tel: 01787 460 273 or 07749 838 769
E-mail: gayellis@aol.com
| | |
| --- | --- |
| Church Wardens: | |
| Jane Piper | 01787 473 933 |
| Karen Sunnucks | 01787 472 145 |
Regular Monthly Services*
| | | |
| --- | --- | --- |
| 1st Sunday | 11.00am | Holy Communion |
| 2nd Sunday | 10.00am | Morning Prayer |
| 3rd Sunday | | |
| 4th Sunday | 9.30am | Holy Communion |
*More information, including details of 5th Sunday, Christmas, Easter and other special services and events, can be found here.