Parish Magazine
The long-established Parish News magazine, containing information and news from and about the parishes of Great & Little Maplestead, Pebmarsh and Gestingthorpe, has undergone a major re-vamp for 2018.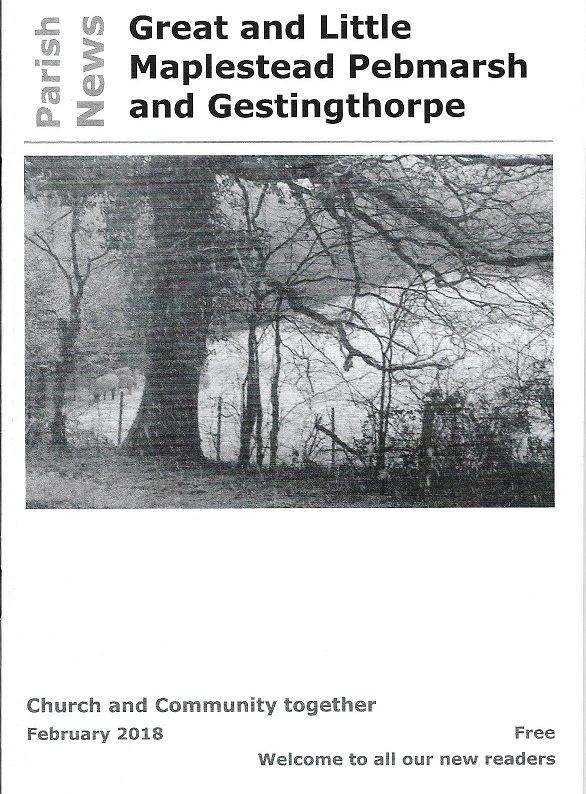 A Steering Committee, including four parish representatives, has been formed to help the Editor ensure that the magazine better reflects each parish's needs. One of this committee's initial decisions was to scrap the magazine's traditional subscription model and distribute it free to every household, thereby increasing the magazine's reach by over 50%
To complement this increase in circulation the editorial format was changed to allow the advertising, rather than being isolated in a central section, to be interspersed with the news content. This has resulted in better, and wider-ranging, exposure for those loyal local businesses that provide the essential financial support necessary to fund the magazine's publication.
While the primary focus of the magazine remains the churches and local communities, the editorial brief now also includes Parish Council news and any relevant information from the District and County Councils.
There will be 10 issues published each year – one a month but with single issues for December/January and July/August.
A version of the current issue can be read here. (Please note: The dates for the March Little Maplestead Parish Council Meeting and the Great Maplestead Village Hall AGM are incorrect in the magazine - they are both actually being held on the evening of Tuesday 20th March).
Previous issues of the magazine can be read by clicking the appropriate link: February 2018
Articles/information and photographs for inclusion in future issues can be sent by e-mail either direct to the Editor or to an appointed Village Representative – their details are listed on page 27 of the magazine.
Deadline dates for copy are:
2018
Issue
Copy by:

April

16

th

March

May

20

th

April

June

18

th

May

July/August

15

th

June

September

17

th

August

October

21

st

September

November

19

th

October

December/January

16

th

November