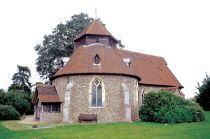 Little Maplestead is situated in North Essex between Halstead and Sudbury, close to the Suffolk border, and has around 270 residents.
The Parish Council is the first tier of local goverment, responsible for the upkeep of the village and for looking after the best interests of its parishioners.
In

Little Maplestead

there are

5

Parish Councillors

, who are elected every 4 years.
If you wish to contact the Council you should, in the first instance, contact the Parish Clerk, or complete the form on the Contact Us page.
If you later wish to contact a Councillor

direct,

you will find their details on the Parish Councillor information page.
This website not only provides details about Little Maplestead Parish Council but it also has information on various village and community amenities, services, organisations, events and activities. If you have any information that you think should be included, please let the Clerk know.
If you would like to receive information about your Council's activities, regular Meeting Agendas, Minutes and, exceptionally, any urgent community information, please complete the required fields on the Contact Us page or send the Parish Clerk your e-mail address: this will not appear, be disclosed or be distributed to any third party and will not be used for any other purpose. If you have not already done so, you will need to complete, sign and return a copy of our Consent Form to allow us to use your personal data - our Privacy Notice details why we need and how we use such data and explains your rights regarding your personal data.
The buttons on the toolbar above can be used to navigate/select and view the information on the website.
Do check our Latest News page for public announcements and recent local information.

The views expressed throughout this site are not necessarily those of members of Little Maplestead Parish Council. Neither the webmaster, nor any other party involved in any way with this website, can be held responsible for any loss, cost, damage, inconvenience or expense caused through the use of this website or as a result of any inaccuracy or error contained within the website or any information or material displayed on or contained within it.
This website uses cookies solely to collect anonymised statistical information about how the site is used. The cookies do not allow anyone involved in any way with this website to gather personal information about users and no personal data is collected or stored. The cookies cannot be used to tell us who you are, or track your individual use of the site.