Local Neighbourhood Plan Consultation
An application has been submitted to Braintree District Council by Finchingfield and Wethersfield Parish Councils to designate their parishes as a single Neighbourhood Plan Area.
This request has been motivated by future plans for the now redundant Wethersfield Airfield - the site largely falls within the Parish of Finchingfield but Wethersfield is the closest village.
Both Parish Councils have become increasingly concerned about speculation that the MoJ is considering building two 'super' prisons on the site, housing around 3000 Category B and C prisoners, and the adverse impact that this will have during the build phase on the local road infrastructure and local ecology, as the site and its surroundings provide a haven for wildlife in the area.
Approximately two years ago the MoJ engaged in an initial consultation process but a planning application has yet to be made. In the meantime Wethersfield Parish Council has coordinated a Working Group, with representatives of around twelve other parish councils, all of whom would be directly affected by a considerable increase of HGV traffic over several years during the 'build' phase of the prisons. The Working Group has engaged experts in a variety of disciplines to build a strong case to defeat a potential planning application, were one be lodged with BDC.
More recently the proposal to use the site as a 'processing centre' for asylum seekers has increased concerns that the site is being seen as a free resource for government to use as it deems necessary. Unfortunately, in the case of the Asylum Centre the government is able to use exemptions applicable to Crown Bodies, who have additional permitted development rights in a national emergency, to enable certain developments to be carried out without requiring a planning application to be made.
Although opposed by BDC, it is likely that this development will be approved and asylum seekers will start to be housed on the site at the end of June. Whether the Asylum Centre issue will pave the way for the government to use the same legislation to move forward on the prison proposal is unknown.
A joint Neighbourhood Plan is a way for Finchingfield and Wethersfield Parish Councils to take a proactive approach to deciding the future of the places covered by the plan. Once 'made' (adopted), the Neighbourhood Plan will have the same legal status as the district wide Local Plan and could be used alongside the Local Plan in deciding planning applications that fall within its area.
The BDC consultation is the first part of the process. For more information please see:
Before a decision is made on designating the area to which a plan would apply, BDC need to consult on the area the plan would cover. Further details are set out on the website:
Finchingfield's and Wetheresfield's combined Neighbourhood Plan is seen as an opportunity to enshrine some of the key principles identified in these Councils' objections to the potential prisons plan and ensure that the historic airfield and its natural surrounds are protected from development and preserved for future generations.
The consultation period commenced on Thursday 11th May and closed at 4:00pm on Friday 30th June 2023.
________________________________________________
Braintree District Local Elections
The Braintree District Local Elections were held on 4th May 2023.
The Parish Council election was uncontested but there was still an opportunity to vote for a District Councillor. The Parish Council election notice can be found here; the candidate information for the District Council election can be found here and the result here.

_____________________________________________
Parish Clerk and Responsible Financial Officer Vacancy UPDATE - Vacancy now filled.
The Parish Council is looking for a new Clerk/Responsible Financial Officer. The hours required are an average of six hours a week and the salary is based on the National Association of Local Councils' salary award framework, payable quarterly in arrears.
The applicant should be computer literate in Excel and Word. A Parish Council-owned laptop will be provided. The position is home-based and an allowance for home office use will be paid
Clerical Duties will include:
attendance at the Parish Council meetings, which are held every other month (i.e. six meetings a year)

preparing the Agenda for these meetings, in consultation with the Chairman

producing the meeting minutes.

handling the Parish Council correspondence and e-mails.
The Clerk will also be required to:
liaise with Agencies such as the EALC and Essex Highways
be responsible for ensuring that the Councillors' views on planning applications are submitted to BDC Planning in a timely manner.
monitor the actions and decisions of the Parish Council
advise the Council on its statutory duties and the regulatory requirements relating to its activities.
either directly, or working through the Parish Council's Consultant, ensure that the Council's website is maintained and up to date.
RFO Duties will include:
the day to day financial management of the Council

the preparation of, and adherence to, the Council's Annual Budget, managing both income and expendure.

producing the end of year accounts and arranging the annual audit - the Council has signed up to the RIALTAS Accounting package as the management tool for this purpose.
For further information and/or an informal discussion about this role please contact the Parish Council Chairman (Bill Piper) on 01787 473 933
_________________________________________________

The Rural Services Network, in partnership with the Citizens Advice Rural Issues Group, is running a Rural Cost of Living Household Survey. 3,000 responses have been received so far but more are needed, especially from those people without access to the internet or the capacity or equipment to engage with services online.
How can these people be reached?
To ensure the widest possible scope for obtaining responses, the survey has been designed so that it can be completed multiple times using the same computer or smartphone. This feature enables residents with internet access to help friends and neighbours without that facility to complete the survey.
Unfortunately RSN do not have the resources for producing and distributing paper surveys, or the staff to manually input data submitted in that way.
How will the results be used?
Results from the survey will build on the Rural Cost of Living research that was commissioned in 2022 and help in lobbying Government Departments, MPs and other policy makers for a fairer deal for rural communities.
The survey ran until 31st March 2023.
_______________________________________________
Voter ID Required for Braintree District Local Elections
The Braintree District Local Elections will be held on 4th May 2023.
The UK Government has made it a requirement for voters to show photo ID when voting, either at a polling station or by proxy.
Which forms of photo ID can you use?
You may already have a form of photo ID that is acceptable – for example any of the following will be accepted:
Passport

Driving licence (including provisional licence)

Blue badge

Certain concessionary travel cards

Identity card with PASS mark (Proof of Age Standards Scheme)

Biometric Immigration document

Defence identity card

Certain national identity cards
For more information on which forms of photo ID will be accepted, you can visit electoralcommission.org.uk/voterID or call the helpline: 0800 328 0280.
What you need to do if you have no photo ID
If you don't already have an accepted form of photo ID, or you're not sure whether your photo ID still looks like you, in order to vote you will need to apply for a free voter ID document, known as a Voter Authority Certificate.
To apply for a VAC go to: voter-authority-certificate.service.gov.uk.
Full details of the photo ID requirements can be found at: www.braintree.gov.uk/voterid
________________________________________
Dog Theft Prevention
Although dog thefts in Essex are extremely rare, Essex Police have produced a leaflet detailing how best to prevent dogs being stolen or, if they have been, what to do. The leaflet can be read or downloaded here.
_________________________________________________________
National Grid – Bramford to Twinstead Reinforcement Update
National Grid is now seeking further feedback on its plans to reinforce the electricity network between the Bramford substation in Suffolk and the Twinstead Tee in Essex.
Earlier this year a statutory consultation was held on National Grid's proposals for this project. A total of 575 responses were received and, following reviews of this feedback, the undertaking of more studies and further landowner discussions, several changes to the proposals have subsequently been made.
The biggest of these changes are in the western part of the Stour Valley, in the parishes of Lamarsh, Alphamstone, Twinstead, Pebmarsh and Little Maplestead.
Maps and details of the changes can be found here and National Grid would like to receive feedback about its new plans before it submits an application for development consent to the Planning Inspectorate early next year.
The Feedback Form, which carries more detailed maps and further information on the changes and the effects they may have, can be found here: it can either be completed online or downloaded and e-mailed or posted to the addresses given on the form.
There will also be a public exhibition of the plans on Thursday 15 September 2022 between 12.00pm and 7.00pm at Sudbury Masonic Hall, North St, Sudbury CO10 1NA.
Paper copies of the revised proposals, consultation documents and Feedback Forms will also be available at Hadleigh, Sible Hedingham, Sudbury and Halstead libraries from 8 September 2022.
Comments made in response to the previous consultation that have already been submitted do not need to be resubmitted or repeated.
This consultation ended at 23:59 on Wednesday 19 October 2022.
__________________________________________
Volunteer Drivers Wanted
Braintree District Council are looking for volunteer drivers for their Community Transport initiative. More details can be found here, at www.braintree.gov.uk/community/volunteer-driving-opportunities or by calling 01376 557 883
_______________________________________________
National Grid: Norwich, Bramford to Tilbury Reinforcement
Councils in Essex and Suffolk have united to condemn a proposal for a 180km network of 50m tall electricity pylons between Norwich, Bramford and Tilbury.
Essex and Suffolk County Councils passed motions at their Full Council meetings in July, opposing the East Anglia GREEN proposal put forward by National Grid.
Norfolk County Council is expected to consider the motion at its next Full Council meeting, following a planned debate on 19 July 2022 being postponed.
The Councils all agree that the plan for pylons is destructive and out-dated, and will cause irreversible damage to the countryside, wildlife habitats and local communities.
A new electricity network is needed to transmit the ambitious 50 GW of offshore wind that the Government aims to be delivered by 2030 and to connect new projects like Sizewell C to the National Grid.
The Councils fully support the need to generate renewable and low carbon electricity to meet local and national Net Zero ambitions. However, they believe that there are more suitable, sustainable and modern transmission alternatives for the network, such as underground or undersea cable routes around the East Anglian coastline.
The current East Anglia GREEN proposal threatens to have significant, and totally unacceptable, impacts on communities, businesses and cherished landscapes across the three counties, with 50-year old, carbon-heavy, technology being used to deliver a supposedly clean energy solution.
The Councils consider that the offshore and underground alternatives, which would allow clean North Sea and nuclear energy to join the National Grid without the disproportionate impacts of overhead cables, have not been properly investigated and presented.
In formalising their long-standing opposition to the current East Anglia GREEN proposal, the Councils are joining a group of 13 MPs who recently signed a letter criticising the consultation. There is also a growing public petition against the proposal, which already has thousands of signatures.
National Grid completed its East Anglia GREEN non-statutory consultation in June. Later this year a report, containing the key points from the feedback received and explaining the next steps in the process, will be published.
The first statutory consultation is due to take place in early 2023, with an application being made by the National Grid to the Planning Inspectorate in late 2024.
______________________________________________
ECC Cost of Living Support for Residents
A continued commitment to support residents of Essex with a series of measures to help tackle the cost of living has been set out by Essex County Council.
At a meeting of the Full Council on Tuesday 12 July Leader Cllr Kevin Bentley set out the action the authority has already taken to support residents, while also acknowledging there is more work to do.
Some of the ways the Council is helping families in Essex include:
Financial Wellbeing – a series of test and learn projects to enable people to improve their financial wellbeing through positive decisions
Holiday Activity Clubs – free holiday clubs during the summer holiday, at least 4 hours per day of fun, nutritional education, at least one meal and mentoring and support for the whole family. This summer 200 clubs will take place across Essex
Community Challenge Fund – providing small grants for groups to develop a vision for their local community and take forward projects that will help them to achieve it
Social Supermarkets – helping families on low incomes buy food and household essentials at lower prices, beginning in Tendring and Basildon
Pedal Power – expanding across Essex to provide bikes to those on low incomes
Digital Inclusion Programme – identifying and addressing the drivers of digital exclusion
While ECC remains committed to the goals of its long term Levelling Up strategy, the issues it is looking to address have been exacerbated by the ongoing impacts of inflation and the rising price of essentials.
Residents across the county are feeling the strain, with more than 76,000 Essex households, about 12%, classed as being in fuel poverty; this number expected to rise further. The inflation increase also means pay has also fallen in real terms in the last 12 months.
These issues are having a particularly profound impact on working families, single parent households, women over the age of 65 and young adults aged between 19 and 25 as well as unpaid carers or those who have children with disabilities.
ECC is already doing its bit to help with action through initiatives such as the Council Tax Rebate Scheme, the Household Support Fund, and the Essential Living Fund.
These programmes have supported thousands of vulnerable and struggling residents with cash payments for food, fuel, and essential living costs. This is on top of the support already provided by frontline services in areas like children's and adult social care.
The County Council has also been working on ways to help people to reduce their energy bills and be more environmental conscious at the same time, through Warm Homes Essex, which provides advice and access to funding for improvements to reduce home energy use.
________________________________________________________
Little Maplestead Jubilee Celebrations
The village had a marvellous Jubilee weekend, with two free events for everyone in the village. We began by borrowing a good deal of bunting and decorating the hedges and entrance of the playing field.
On the Thursday morning the weather looked kind and a marquee was erected on the playing field, together with tables for the food and drink. Tony Crudgington, who had looked after the beacon since the last Jubilee, found a good strong pole and prepared firewood, kindling and straw, together with a lovely firelighter on a very long stick.
During the afternoon Diane Smith and Jane Boulden helped to cut up the cheese and set out the biscuits and, at 6 o'clock, the cheese and bottles of wine and fizz were set out in the marquee. Gemma Frost's phone and a speaker were set up as a sound system to play the Jubilee song and the National Anthem towards the end of the evening. Geraldine Holloway baked some outstanding Jubilee tarts and Karen Sunnucks supplied some delicious sausage rolls.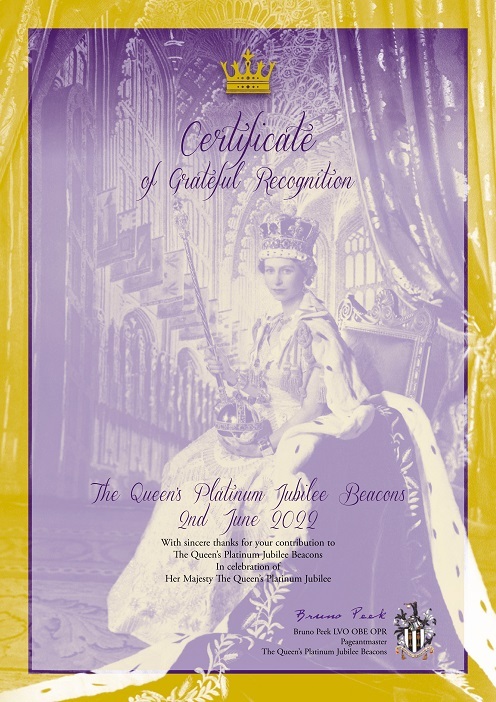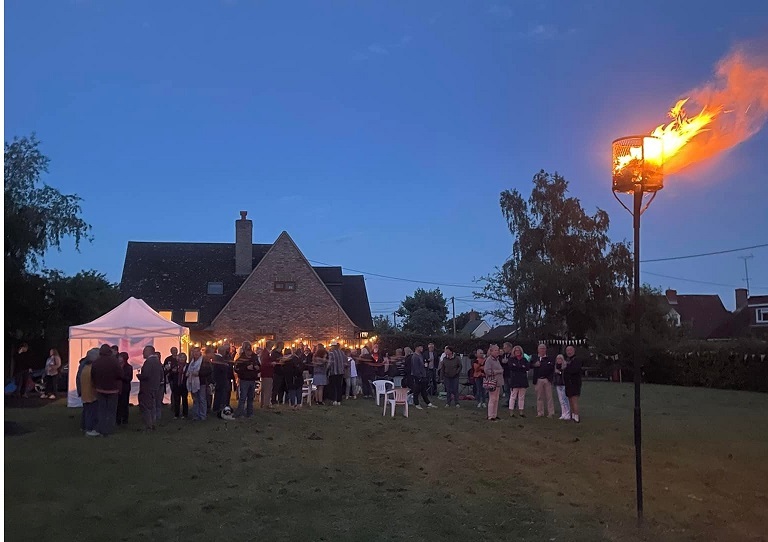 We were expecting around 30-40 people – in the event over 75 came to celebrate, drink the wine, nibble the cheeses, sing and celebrate such a great occasion.
At 9.40pm Andrew Sunnucks proclaimed the event with due ceremony and the beacon was lit. The National Anthem was sung with gusto and the evening closed with some very merry villagers wending their way home!
And we got an official certificate for our beacon too!
On Sunday the weather forecast was dreadful. In the weeks before every house in the village was visited and tickets to the Hog Roast were distributed for those wishing to attend. We needed tickets to be sure only a maximum of 160 people came and that they were all residents of the village. Tables and chairs were set out and extra gazebos erected – thanks to Nadine Scurr, Diane Smith, Kevin Caddy and Bill Piper. Geraldine Holloway's son Mark travelled from Kings Lynn to provide the music and announcements, and did a brilliant job.
The Hog Roast, provided by the Sible Hedingham butcher D. R. Earey, soon had the lovely smell of roast pork drifting across the playing field.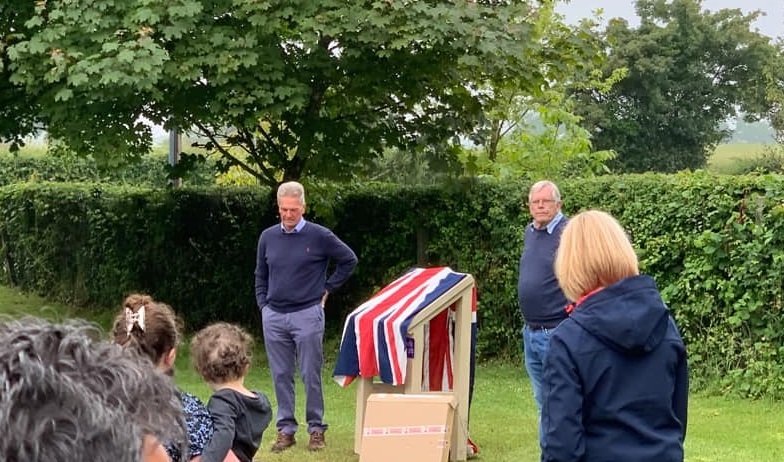 The new Village Information Board was unveiled by Bill Piper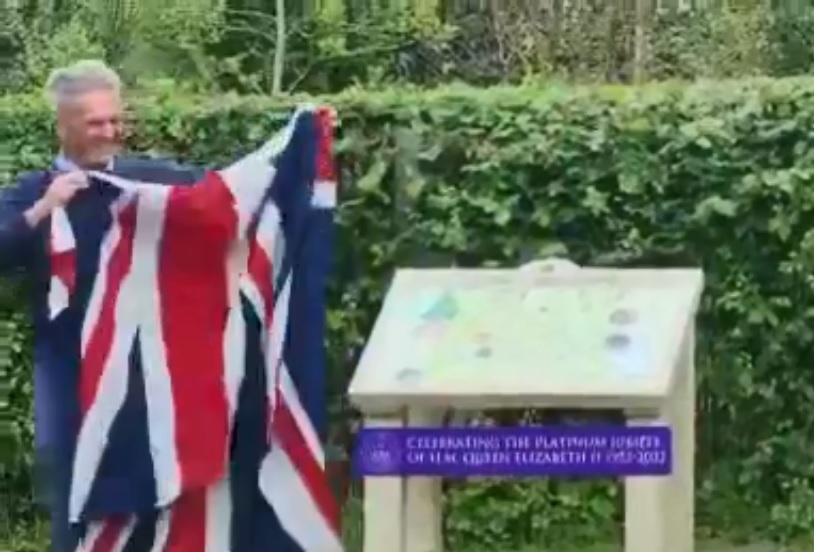 and District Councillor Peter Schwier.
Instrumental in devising the design for this were Nadine Scurr and Helen Went.
Funding for the board was arranged by Ann Harris, our Parish Clerk.
We could not have had music or refreshments without the kind support of Mia and Andy from Larchmont, the house next door to the playing field, who supplied electricity for the event.
Maureen Garnham won the best decorated cake, Edson won the prize for the best fancy dress and the best decorated garden prize went to Bakersfield in School Road. The rain held off, (mostly!) and around 150 people had a wonderful time eating, drinking and sampling the fabulous cakes.

Both events were funded by the Parish Council, but special thanks must go to the Chairman Bill Piper, who was a tour de force at devising, organising and persuading people to help.
Report by Jane Piper
_____________________________________________
The Local Plan: Section 2 Can Be Found Sound
Planning Inspectors have ruled that a blueprint for development in the Braintree District until 2033 can be found legally sound.
The Planning Inspectors - Mr Jameson Bridgewater and Ms Anne Jordan - have now examined Section Two of Braintree's Local Plan, which includes localised policies and site allocations that can be used for considering planning applications in the district. It also identifies land for economic growth, supporting infrastructure and protecting land for open spaces and community facilities.
The Inspectors' final report comes after the formal examination held in July 2021 and public consultation on the proposed modifications which ended in January 2022.
After scrutinising the Plan and the supporting evidence, hearing from stakeholders and taking into account resident's comments via the public consultation, the Inspectors' final report concludes that the document can be adopted – subject to and including their recommended modifications – and be found legally compliant and sound, subject to Councillors' approval. The final list of main modifications accompanies the Inspector's report, but remains largely unchanged from those which were consulted upon.
What happens now?
The Plan will be presented to the Local Plan Sub-Committee on Tuesday, 5 July 2022 for approval. If approved, it will be recommended to Full Council on Monday, 25 July 2022 for final adoption of the whole plan.
Cllr Gabrielle Spray, Cabinet Member for Planning and Infrastructure, said: "I'm pleased we have now received the Inspectors' feedback and we can move ahead with the formal adoption of our Local Plan. If approved, it will put us in the best possible positon to fight against speculative, unsustainable and poorly designed housing developments and give greater certainty to our local communities as to where new developments will be built and the infrastructure and facilities that will accompany them."
The Planning Inspectors' final report is available to read here.

______________________________________________________
Literacy Areas in Essex Libraries.
The first phase in the rollout of Literacy Areas in Essex Libraries has begun, with Sible Hedingham's dedicated area being the most local to Little Maplestead.
The Literacy Areas are dedicated to nurturing adults' and children's love of reading and writing. Each area holds printable take-home resources, covering enhanced literacy topics for beginners of all ages, as well as creative writing prompts.
The areas also have carefully chosen material to support adults' and children's literacy, including learning-to-read books, books that support specific needs such as dyslexia, and books that enable parents to help their children with reading and writing.
Deputy Leader and Cabinet Member for Communities, Cllr Louise McKinlay said: "In April we launched our four-year plan for Essex Libraries and, as part of the plan, we announced literacy support for adults and children in Essex.
"We know that 16% of adults in England have 'very poor literacy skills' and around 2% to 6% of children have significant reading difficulties. For adults and children this can lead to low self-esteem as well as an inability to access information. This can adversely affect their life chances.
"The new Literacy Areas will make a real, positive, difference for people that need that extra bit of support. I am so pleased the first areas are now open and I would urge residents to visit and explore what they have to offer."
It is hoped that Literacy Areas will have opened in all 74 libraries in Essex by the end of June 2022.
There is more about ECC's plans for Essex Libraries here.
__________________________________________________
Four-Year Vision for Essex Libraries to become a reality.
Ambitious plans for a vibrant, modern and sustainable Library Service in Essex is set to become a reality as the 'Everyone's Library Service 2022-2026' plan has now been approved by the County Council, marking the next step in an exciting future for the county's libraries.
Feedback from an 8-week public consultation that took place between November 2021 and January 2022, where thousands of residents shared their views on the initial proposal, was incorporated in the final plan, which can be found at www.essex.gov.uk/everyoneslibrary.
Helping improve literacy, encouraging people to enjoy reading for pleasure and increasing the range of online resources available to users are just some of the plan's ambitions.
There is also a commitment to keeping all 74 libraries open with investment in training and the upskilling of existing library staff.
The plan also sets out three key aims for the next four years and details how these will be achieved:
Library Service and Literacy
Improving literacy for children and adults and creating 'Literacy Areas' in every Essex library by the end of June 2022.

Supporting children to become school ready.

Offering up-to-date and refreshed stock and resources.

Delivering a programme of exciting events in the libraries.

Upskilling staff and working with volunteers to enhance the service.
Communications and Infrastructure
Improving communications with residents so they know what is on offer

Working to attract new users.

Investing in library spaces so they are vibrant, accessible and flexible.

Ensuring the buildings are as 'green' as can be.
Supporting Communities and Levelling Up
Expanding outreach and community involvement to make sure no one is left behind.

Enhancing employability, wellbeing, culture and arts through bringing people together.

Encouraging greater footfall, with exciting new activities to attract and welcome new users.
Deputy Leader and Cabinet Member for Community, Equality, Partnerships and Performance, Cllr Louise McKinlay said: "This is an important moment for our Library Service and signifies the start of new and exciting opportunities for residents. The 'Everyone's Library Service 2022-2026' plan will help create a service that is modern, vibrant and sustainable, with improved access, better facilities and more opportunities for local people."
_________________________________________________
Gosfield & Greenstead Green Ward Annual Report 2022
The Annual Report for the Braintree District Ward that includes Little Maplestead has now been issued and can be read here.
_________________________________________________________________
Save Money On Your Energy Bills
In these times of rapidly rising gas, electricity and oil prices the following information and links may help you find ways to reduce your energy bills:
Essex Energy Switch is a scheme you can sign up to and receive cheaper energy tariffs. Register with the energy switch scheme to see if you can save money on your household energy bills.
Solar Together Essex is a group-buying scheme that enables Essex residents and businesses to install solar panels at an affordable price. The scheme provides a straightforward and safe way for you to generate your own energy and save money on future energy bills.
Register for Solar Together Essex today and help reduce carbon emissions in your local area.
Making energy efficient improvements if your household income is below £30,000
If you're an Essex homeowner with a household income below £30,000, you may be eligible for £10,000 funding to make energy efficient improvements to your home through the Green Homes Grant Local Authority Delivery Scheme.
Find out more about the Green Homes Grant Local Authority Delivery Scheme.
Save more money on your energy bills
Visit Energy Saving Trust to find out how you can save even more money on your energy bills.
Oil central heating systems
Even if you're not connected to the mains gas supply, you can still save money on heating oil by joining the Rural Community Council of Essex (RCCE) community oil buying scheme.
Get advice from Warm Homes Essex
You could get help from a specialist energy advisor if you are finding it hard to pay energy bills or have debts with energy suppliers. They might be able to help you get a grant to improve your home's energy efficiency.
Visit Warm Homes Essex or contact the Citizens Advice Warm Homes team on 0300 3033 789.
____________________________________________________
Recycling glass bottles and jars is now much simpler!
Effective immediately, different colours of glass bottles and jars can be mixed when they are put into the glass recycling facility in the Little India car park – clear and coloured bottles or jars can now go into any of the recycling bins…
Glass colour-sorting will be undertaken by BDC's glass re-processor, so pre-separating bottles and jars by colour and putting them into different recycling bins is no longer necessary.
This change will allow more glass to be recycled by freeing-up unused bottle bank capacity, something that is apparently needed due to an increase in the volume of glass being deposited since last year's lockdown.
It will also make BDC's glass collection more efficient – using single-section collector vehicles will allow more glass to be collected every fortnight.
Over the next few weeks the bottle bank will be updated with new bin stickers – but there's no need to wait, using any recycling bin for any colour glass can start right now!
________________________________________
New website to help find suitable residential and nursing care homes for older people in Essex
Essex County Council, working in partnership with the NHS, has launched a new website to help people find a suitable care home for themselves or a loved one.
The new website is www.essexcaresearch.org.
Essex Care Search can be used to find residential, nursing, dementia or respite care home vacancies for older people within the county. You can search for vacancies by location, cost, type of care and facilities in the care home.
The site has detailed information on all the homes that are registered, including contact details, CQC ratings and photographs.
Whether you are looking for short term care, longer term care, a central location with specialist room features, or an en-suite bedroom in a home by the coast, Essex Care Search can help you to find a care provider.
Cllr John Spence, Essex County Council Cabinet Member for Health and Adult Social Care, said: "Enabling residents to have access to a choice of quality care facilities in every part of the county is a key objective for us. We hope this new website will make that access still easier".
Guidance and an easy step by step video to guide you through the website, can be found here.
_________________________________________
Proposed Mobile Phone Mast Installation in Little Maplestead.
Mobile phone company Telefónica has entered into an agreement with Vodaphone to jointly operate and manage a single network grid across the UK. These arrangements are being overseen by Cornerstone Telecommunications Infrastructure Ltd (Cornerstone) which is a joint venture company.
As part of Telefónica's continuing network improvement programme, it has identified a specific requirement for improved network coverage in the local area. As a result, Telefónica is in the process of carrying out a pre-planning consultation about installing a radio base station (otherwise known as a mobile phone mast) on land adjacent to Little Lodge Farm. This is because the company has determined that a mast in this location will help to provide a better mobile phone service, particularly in respect of 5G and associated data services, and allow the roll-out of smart energy metering access to customers in this area of Braintree District.
The proposed installation comprises a 25m (75ft) mast housing 3 antennas, 2 dish antennas, four radio equipment cabinets and an associated meter cabinet within a fenced compound located in the field next to the bridleway at the end of Little Lodge Lane. The location and detailed site plans can be viewed here.
A number of alternative sites in the local area were considered but were unsuitable for a variety of different reasons. These sites, and the reasons they were discounted, can be viewed here.
Telefónica have advised that any relevant Local Planning Authority records have already been reviewed, Development Plan policies taken into account and the planning history of their chosen site examined. It has also confirmed that its phone mast installations are designed to be fully compliant with public exposure guidelines established by the International Commission on Non-Ionizing Radiation Protection (ICNIRP), which also have the support of UK Government, the European Union and the formal backing of the World Health Organisation.
As a part of the pre-planning consultation process the Council considered this at its Annual Parish Council Meeting on Tuesday 18th May and decided to object to the proposed location. Alternative sites for the mast were discussed and one on land owned by the Council has been suggested to Telefónica in the Council's response.
It's acknowledged that, for many in this area, mobile phone coverage is poor to non-existent and that improvements may be welcome.
Further Update
The prior approval for planning permission for this mast was refused by Braintree District Council on 22nd September 2021 because certain requirements of the application, which had been highlighted by both Great and Lilttle Maplestead Parish Councils, had not been met. The detailed reasons for the refusal can be found in the decision document here.
________________________________________
Gosfield & Greenstead Green Ward Annual Report 2021
The Annual Report for the Braintree District Ward that includes Little Maplestead has now been issued and can be read here.
_________________________________________________________________
The Local Plan: Section 1 Adopted .
Braintree District Council, at the meeting of its Full Council on Monday 22nd February 2021, formally adopted the Braintree District Local Plan 2013-2033 Section 1 North Essex Authorities Shared Strategic Section 1 Plan.
The Section 1 Plan was prepared jointly by BDC, Colchester Borough Council and Tendring District Council – the local planning authorities (LPAs) collectively known as the North Essex Authorities (NEAs) – from the first part of each authority's respective Local Plan.
The Section 1 Plan is designed to:
Articulate a spatial portrait of the North Essex area, including its main settlements and strategic infrastructure, as a framework for accommodating future planning growth;

Provide a strategic vision for how planning growth in North Essex will be realised;

Set strategic objectives and policies for key growth topics;

Set out the numbers of additional homes and jobs across the area that will be needed during the period to 2033.
For Braintree the Section 1 Plan includes Policy SP4, which requires a minimum of 14,320 new homes to be built over the period 2013 to 2033, an average of 716 new homes per year. Through Policy SP5, the Section 1 Plan also sets out employment land requirements for Braintree of between 20.9 and 43.3 hectares for the Plan period.
Following examination by an independent Planning Inspector, the Final Report on the Section 1 Plan was received by BDC and the other NEAs on 10th December 2020. This confirmed that, subject to the Inspector's recommended main modifications, which have been agreed by the Council and incorporated into the adopted document, the Section 1 Plan meets the legal requirements of the national planning system and the tests of soundness contained within national planning policy, allowing it to proceed to formal adoption.
Adoption of the Section 1 Plan by BDC has the effect of replacing, in part, a number of the strategic policies contained within the Braintree District Core Strategy 2011 (adopted September 2011).
The Core Strategy (2011) and Local Plan Review (2005) will be replaced in full once Section 2 of the Local Plan, which contains further specific local policies and proposals applicable to the Braintree District only, is formally adopted.
Section 2 is currently subject to an examination by inspectors appointed by the Secretary of State for Communities and Local Government.
The Section 1 Plan and its appendices, the Sustainability Appraisal (and addendum) and the Planning Inspector's report are all available to view online at http://www.braintree.gov.uk/
__________________________________________________________
Rural Crime
Rural crime is on the rise, but you can help Braintree District Council prevent its spread. If you have any information about a rural crime, or have seen something you think is suspicious, you can provide your information - 100% anonymously - to BDC's rural crime hotline, powered by @CrimestoppersUK, by calling 0800 783 0137. Alternatively, you may visit ruralcrimehotline.co.uk and make your report there.
___________________________________
Local Plan Update
Braintree District's Local Plan was submitted to the Planning Inspector in October 2017 and public hearings were held in January and May 2018 to consider Section 1 of the Plan.
This Strategic Section 1 Plan is also shared with two other North Essex Authorities, Colchester Borough and Tendring District Councils, and examines policies for local developments in North Essex, including proposals for three new Garden Communities.
In June 2018 the Planning Inspector agreed that 716 homes needed to be built in Braintree District each year until 2033. However, he considered that the Section 1 Plan, as submitted, was not sound and needed significantly more work, particularly in relation to the Garden Communities, which the three NEAs felt were the best solution to protecting existing towns and villages against urban sprawl.
The NEAs agreed to act in concert to carry out the further work required on the evidence base and a sustainability appraisal and then submit their revised strategic proposals for the Inspector's examination.
In December 2018 a pause in the planning process was announced to enable this work to take place.
During the early part of this year the NEAs undertook another sustainability appraisal, produced more documents for the evidence base and made suggestions for additional Local Plan amendments.
After consideration by BDC these changes were put forward for public consultation before being resubmitted to the Planning Inspector.
The consultation period closed on the 30th September 2019.
Online information on the amendments and changes can be found at www.braintree.gov.uk/NEAtechS1. The same information, together with copies of the consultation documents, was available in local libraries.
After this public consultation a report for the NEAs will be produced, detailing the Inspector's conclusions and recommendations and including any further modifications required for the Local Plan. Another public consultation will then be needed before the Inspector's report is completed.
Section 2 of the Local Plan, which only contains site specific policies/allocations for Braintree District, remains with the Planning Inspectorate – it will only be considered once Section 1 has progressed.
________________________________________________
Extended GP Surgery Hours
It is now possible to get an evening or weekend appointment with a GP, nurse or other healthcare professional at one of six NHS Extended Access Hubs across Essex, including the Elizabeth Courtauld Surgery in Halstead. Further information about where the Extended Access Hubs are located, their opening times and how to book an appointment can be found here.
________________________________________________
Braintree District Council's Corporate Strategy Consultation

What do you think Braintree District Council's priorities should be during the next four years?
It is now consulting on its Corporate Strategy for 2020-2024 and residents have a chance to say what they think its focus should be over the next four years.
It's important that BDC meets the needs of the district and addresses some of the challenges that communities and businesses are facing; everyone taking part in this consultation will be part of making that happen.
The survey can be found at www.braintree.gov.uk/cs2020-24
________________________________________________
Victim Support is looking for volunteers
Victim Support is a charity supporting victims of crime - last year it helped over 3,000 people in Essex and is currently looking to recruit new volunteers to help deliver its service. More details about what's required and who to contact can be found here.

_______________________________________________________________
Parish/District Council Elections – May 2019
There were only five nominations for the available Parish Council seats, so the the persons whose names appear here are duly elected without a contest.
There were three candidates for the single District Council position: the election result can be found here.
________________________________________________________________
Braintree Council's Community Transport Scheme
Community Transport has been in operation for 20 years and is a service dedicated to providing subsidised transport to non-profit making groups and individuals within Braintree District. It can provide ad hoc, one-off or regular transport using minibuses or cars:
Minibus Scheme for Group Hire
Five fully accessible 12-seater minibuses are available, either with a driver or on a self-drive basis. Annual membership is £25, with a mileage rate of £1.50/mile (the minimum fare is £35). So a local trip of under 20 miles would cost just £35.
Groups can use the service for visits to places of interest (seaside/stately homes), ad hoc/weekly shopping trips, pub lunch outings etc.
Multiple buses may be hired and can be used for trips anywhere in the UK.
Social Car Scheme for Individual Hire
Cars are available with a driver Monday to Friday between 8.30am and 5.00pm. Annual membership is £20, and trips cost £3.50 up to5 miles one way or £7.00 return. The service can be used for access to the local community and services, shopping, keeping health-related doctor or hospital appointments, social outings or visits to friends and family.
Passengers can be taken to and from anywhere within Braintree District – the exceptions are for hospital visits in Chelmsford and Colchester, where a drop-off service only is available.
Dial-A-Ride Scheme for Individual Wheelchair Users
For people who use mobility aids, need to travel in their wheelchair, or cannot get into a car, a specially-equipped minibus with a tail lift and low access steps is available, under similar terms to the Social Car Scheme.
E-mail any questions you may have about the scheme to: community.transport@braintree.gov.uk or telephone: 01376 557 883.
Further details are available at: www.braintree.gov.uk/communitytransport
________________________________________________________________
Braintree, Halstead & Witham Citizens Advice
From 14th January 2019 there have been changes to the way in which to contact Citizens Advice - the new arrangements are detailed here.
_________________________________________________________
Proposal for a Parish Room in the grounds of the Round Church
The Parochial Church Council of St John the Baptist, Little Maplestead, is proposing to build a small Parish Room in the grounds of the Round Church. The Church is currently the only building in the village which can be used by the community and, although the Parish is very lucky to have such a wonderful Church, its facilities are very limited.
The main purpose of the proposed Parish Room will be to support the Church's mission, but it will always be secondary and subservient to the main building, both in appearance and purpose. It is intended to provide a flexible open space that will also be available to the whole community for other Parish events.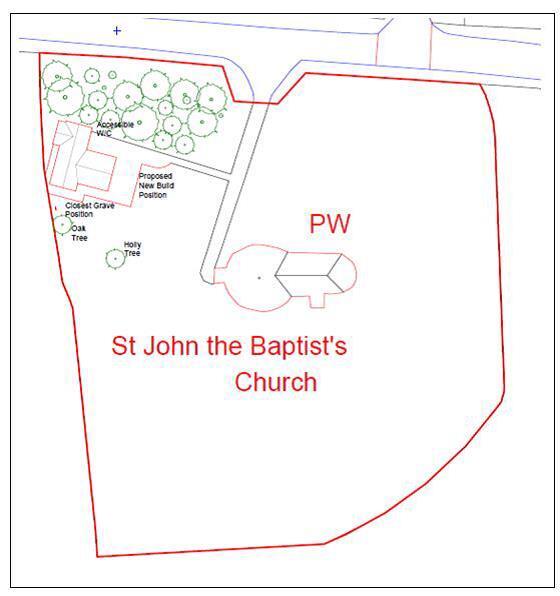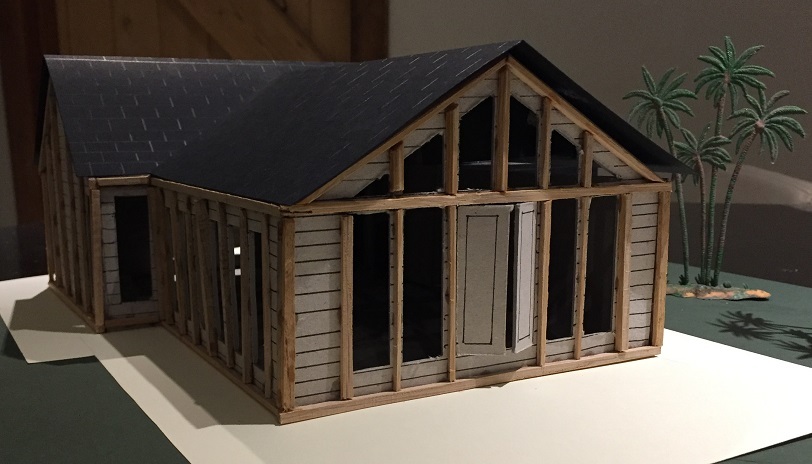 The proposed location of the Parish Room is in the northwest corner of the churchyard, as shown in the diagram (left).
As can be seen from the model photograph (right), the eastern elevation will be glazed to afford a vernacular view of the Church.
The model, and all the draft plans, were put on display in the Church a few days before the Wednesday 19th December Carol Service and remained there for people to see and comment on. A comments box for people to give their views anonymously, in a sealed envelope should they prefer, was available; alternatively, comments can be e-mailed to: roundchurchroom@btinternet.com
The Parochial Church Council invited all residents of Little Maplestead, and Church supporters, to a meeting in the Round Church on Sunday 13th January 2019 at 10.00am to hear more about, and discuss their views on, this proposal.
There was a short presentation and members of the PCC were available to answer parishioners' questions. Refreshments were provided.
_________________________________________________________
Community Policing Team Changes
A consequence of the formation of Braintree's Community Policing Team (CPT) in 2015 was a reduction in the number of community officers and a withdrawal of 'beat officers' from some local areas.
This means that local residents tend not to know who their local officers are – and the Community Policing Team is, in many cases, a faceless entity.
Since taking charge in February 2018, Inspector Colin Cox's priorities have been to change how the local police interact with the public, encouraging greater community engagement and increasing the number of Police Officers on the Community Policing Team.
CPT numbers remain small but, in order to give residents the best possible service, Police Officers and Police Community Support Officers (PCSOs) have now been allocated specific local areas of responsibility.
This has been done to help officers develop a culture of ownership and pride in their area, so improving their relationship with residents. This change to their way of working will also enable officers quickly to identify, and get an early understanding of, local issues and direct people towards the most suitable agency for the best help.
The local Community Officers with responsibility for the Halstead area, which includes The Maplesteads, are:
PC 3655 Craig Wheeler : e-mail Craig.Wheeler@essex.pnn.police.uk
PC 2613 Andy Pilgrim : e-mail Andy.Pilgrim@essex.pnn.police.uk
PC 2457 Paul Norman : e-mail Paul.Norman@essex.pnn.police.uk
PCSO 70714 John Thorne : e-mail John.Thorne@essex.pnn.police.uk
PCSO 70955 Joanne Cooper : e-mail Joanne.Cooper@essex.pnn.police.uk
These officers will be the initial points of contact for any community concerns.
The CPT's e-mail address – BraintreeandUttlesfordCPT@essex.pnn.police.uk – is monitored daily and residents with any questions or concerns can also use it to contact Inspector Cox or members of his team.
And remember: only call 999 for emergencies; for any non-urgent enquiries call 101
_______________________________________________
Mid-Essex Hospital Services NHS Trust Planned Merger
Plans are being discussed to merge Mid Essex Hospital Services NHS Trust (MEHT), which includes Broomfield, Braintree Community hospital and St Peter's in Maldon, with the hospital trusts in Basildon and Southend.
As these plans continue to be firmed up, there is a need to prepare to elect Governors from the Mid-Essex region for what will become the new merged trust; these people will help to ensure that the needs and interests of those living in the area currently covered by MEHT are given due weight.
Governors will be elected by and from those who are registered as members of the MEHT, so the imperative is to maximise membership numbers as quickly as possible. Details about becoming a member of the Trust can be found here and anyone who is interested should also be able to apply to join from the same page – if there are problems, a request can be e-mailed to ft@meht.nhs.net.
All local residents, since they have a direct stake in these planned changes, are eligible to sign up as members. There is no cost and no obligation in doing so, but only MEHT members will be able to vote when the election for Governors takes place.
Nick Alston, Chairman of MEHT, is keen to encourage all residents not only to sign up as members but also, when the time comes – in the early autumn – to consider standing as a Governor of the new merged Trust. More information about a Governor's role can be found here.
_______________________________________________
Data Protection – Making Sure Your Information is Safe
With the introduction of the General Data Protection Regulation (GDPR) into law in May 2018, Little Maplestead Parish Council – as a publically-accountable body which has access to, and makes use of, your personal data – must now seek positive consents for how it uses new data in order to keep in touch.
If you have previously consented to receive information about the Council's activities, regular Meeting Agendas, Minutes and, exceptionally, any urgent community information, the Council is permitted to continue to send you such information because there is a 'legitimate interest' in you continuing to receive it. You may, of course, opt out of receiving any information by advising the Clerk of your change of consent.
Each Parishioner who has not already consented to receiving information from the Council will need to complete, sign and return a new Data Protection Consent Form, which can be downloaded here, in order to provide the necessary consents required by the GDPR. Completed forms can either be returned to the Clerk electronically or in hard copy form, or you can e-mail your acceptance of the consent terms to the Clerk.
Full details of how the Council must in future protect and be responsible for any personal data it holds, as well as your improved rights with regard to how they are used, is contained in the Council's Privacy Notice, which can be read here.
_____________________________________________________
Illegal Pedlar Activity
Essex Police and Neighbourhood Watch are warning residents about reports of illegal door-to-door salesmen targetting towns across the county. More information about these pedlars is contained here. Anyone suspecting that this activity is happing in their locality is being encouraged to report it to the police by calling 101.
________________________________________________
Community Governance Review
Braintree District Council was required to review the overall governance of all Town and Parish Councils within the District.
The review focused on:
The appropriateness of present Town/Parish boundaries

The numbers of Town/Parish Councillors

Town/Parish Council names and any warding agreements
The consultation has now closed, but you can find out more about the review and view comments at www.braintree.gov.uk/cgr.
__________________________________________________
Braintree's 'Tell Me More' Initiative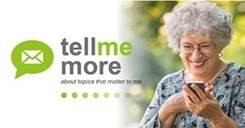 Residents and businesses in Braintree District can now sign up and subscribe to a new e-mail update service on various topics of their choice, ranging from refuse recycling and street cleaning to planning news, health and well-being tips, events, job vacancies or emergency alerts.
There will also be an e-mail newsletter especially for businesses in the district.
______________________________________________
Local Plan Consultation
The latest Draft of the Local Plan Document for North Essex was issued on 16th June 2017. The Public Consultation has now closed, with comments and feedback informing the next stage of the process.
The two-part document can be viewed by clicking on the links below:
Section 1 – Strategic Plan for

North Essex

, including the proposed Garden Communities
Section 2 – Policies, maps and sites for development, housing, employment and regeneration within

Braintree District
More information, together with downloadable versions of the Local Plan and its appendices, is at: https://www.braintree.gov.uk/publicationdraftlp
______________________________________________________________