Little Maplestead is served by a frequent, flexible Demand Responsive Transport (DaRT) bus service, one where passengers need to book journeys with the operator in advance.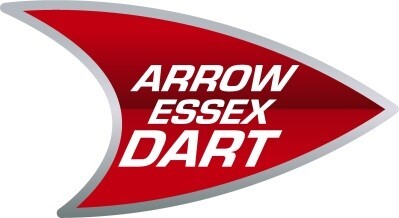 The DaRT F315 service is operated by Arrow Taxis, using minibuses that hold up to 16 passengers, and runs between 7.30am and 8.00pm, Mondays to Saturdays.

The service differs from a normal bus in as much as the route is flexible, allowing people to be collected and dropped off at, for example, the hospital within the service's operating area. However, unlike with conventional buses, DaRT users must book a seat, and register as a customer, at least two hours before travelling.
Booking can be done by phone: 01621 87441 or e-mail: bookings@essexandsuffolkdart.co.uk
The DaRT F315 service runs to a timetable between Halstead and Sudbury. However, parts of this service are Demand Responsive only, and this includes Little Maplestead – in other words, the bus won't visit Little Maplestead unless the service is booked.
The published timetable, effective from December 2021, can be found here.
Route details and an online timetable can be found here.
Flat fares for the DaRT F315 service between any two stops are shown below:
| | | |
| --- | --- | --- |
| | Adult | Child |
| | (Over 16) | (5-16 inc) |
| | | | | |
| --- | --- | --- | --- | --- |
| | Single | Return | Single | Return |
| | £2.50 | £4.00 | £1.25 | £2.00 |
Children under 5 are free
Concessionary bus passes are accepted.
More details about the DaRT service can be found here.
Answers to some Frequently Asked Questions about the service can be found here. Further information can be found on the Essex County Council website.
Changes to other Local Bus Services
From the 27th August 2017 a number of other Local Bus Services previously provided by Regal Busways were also withdrawn or transferred to a new operator:
Service 70 M – Sat evenings (after 18:35) (Braintree - Colchester) – withdrawn, no replacement
Service 89 – the 0628 Mondays to Fridays (Great Yeldham – Braintree) – withdrawn: Hedingham & District Omnibus offer a journey from Gt Yeldham at 0623
Service 88 (Sundays and public holidays) (Colchester – Halstead) – service re-numbered as 88a and operated by First Essex Buses to a revised timetable*
Service 91 (Tollesbury – Witham) All ECC journeys on this service will be operated by Hedingham and District Omnibuses to a revised timetable*
Service 341 (Fuller Street – Witham, Thursdays Only); Service 343 (Fuller Street – Braintree, Saturdays Only); Service 344 (Black Notley – Chelmsford) – all withdrawn: some alternative journeys can be made using services 345 & SB21*
Service 345 – has transferred to being operated by Hedingham & District Omnibuses, with no changes to the timetable.
* Timetables for all these services can be found by going to www.traveline.info/se and clicking on 'Find Timetable'